New Book Publication Edited by Caleb Howard
Old Testament Project
16th October 2023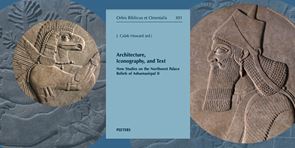 Caleb Howard, Research Fellow in Old Testament and Ancient Near East at Tyndale House, has edited a new book titled, Architecture, Iconography, and Text: New Studies on the Northwest Palace Reliefs of Ashurnasirpal II. The book also contains an essay written by Caleb titled, How to Do Things with Texts: The Management of Space Constraints on the Orthostats in the Northwest Palace. 
Dr Howard says, 'This book contains papers presented at a symposium that I organized in 2019. The papers are about a famous Assyrian royal palace, called the Northwest Palace, which was built in the ninth century BC at one of the Assyrian capital cities, called Kalhu (biblical Calah). The palace contained an innovative combination of relief depictions, sculptures, texts incised in stone, and architectural features. The authors were asked to study how these aspects of the palace as an ensemble communicate their message to viewers ancient and modern. The authors are excellent scholars and wonderful colleagues. It was a huge privilege to work with them.'
The book is published open access and can be downloaded here.
If you would like to see the artefacts from the Northwest Palace, you can view some of them on display in the British Museum in London. If you're not able to travel there, you can take a virtual tour of the reliefs here.
For those of you local to Cambridge, you can also see some of the artefacts on display in the Ancient Near East gallery at the Fitzwilliam Museum.