Do we still care about evidence?
Interview
17th December 2020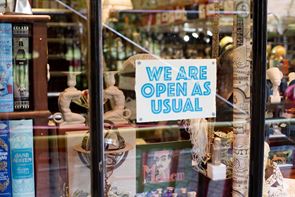 In an age when 'my truth' is often elevated above 'the truth' Kay Carter asks the Christian apologist Kristi Mair whether students are rejecting research.
Over the past 25 years a subtle but significant change has taken place in Christian apologetics, particularly student apologetics. Where once a typical evangelistic talk might be titled "Did Jesus really rise from the dead?" and deal with the historical evidence for faith, these days you're far more likely to be invited to an event called "Why does my search for happiness leave me disappointed?". 
While this may look like a simple adjustment in presentation, it is the result of an important shift in the tectonic plates of Western culture. In seeking to identify those things that Westerners hold to be true, there has been a movement away from looking outwards and asking questions about evidence and fact, and towards looking inwards and asking which theory is a good fit for us personally. Or, put more colloquially, "that is your truth, what is my truth?"
For an organisation such as Tyndale House, which is tightly focused on evidence-based, empirical knowledge, it's a crucial issue. Tyndale House was set up, in the words of founder W J Martin, because "our faith is inseparably linked with certain historical events recorded in an extensive corpus of written documents, hence its credentials are open to objective investigation". Back in 1945 it wasn't unusual to doubt the historical truth of the Gospels, but questions of faith were still largely approached as objective questions, the focus being whether or not the claims of Christianity are universally true. Today, it's more common for people investigating Christianity to ask whether it is personally satisfying and whether they prefer it to other faiths. Modern-day Tyndale House exists in a context that asks of Christianity not so much "Is it objectively verifiable?" but more often "Do I like it?".
To explore this issue further I am meeting Kristi Mair, a research fellow at Oak Hill Theological College in north London and a Christian apologist who travels the UK speaking to students about faith and philosophy. Mair is also the author of MORE>Truth, a book that explores the modern world's simultaneous longing for, and cynicism of, certainty, especially as this relates to Christianity. 
Recently Mair was one of the main speakers at the Oxford and Cambridge University Christian Unions' events weeks, giving a series of talks with titles including "I wonder why success never satisfies me" and "In an age of connection, why do we feel so alone?", which were specifically intended to address the wants and desires of the 500 or so listening students. She says: "It was interesting because when we sat down to generate the talk titles, we were clear that focusing on existential, felt needs would be the best way to connect with students."
Before joining Oak Hill, Mair worked for eight years with the Universities and Colleges Christian Unions (UCCF) as a staff worker and then an assistant team leader, giving her a clear insight into the issues that matter to students and how they have changed in recent years. She also holds a master's in Philosophy of Religion and Ethics and is a doctoral candidate at Birmingham University, researching philosophical theology. "Students are typically interested in questions such as: Is it relevant? Is it good news for me? Is it liveable?," she says. "There is definitely a shift away from modernity and the modernistic emphasis on empirical questions. It's not that students are discarding questions of truth though, it's more a change in the ordering. Rather than saying: 'Is it true? Yes it is. Therefore, okay, I'll try it on personally.' They're saying, 'let me try this on to see if it fits me. It does seem to make sense of my real-life questions and my existential angst, my desires and hopes. So is it actually true?' There's just a different sequence that has come about quite recently." 
At a fundamental level, students are asking the same two questions people have always asked: Is Christianity desirable? And is Christianity credible? Mair points out: "This pairing of desirability and credibility of Christianity is what Blaise Pascal was referring to back in the 17th century when he said, 'Make good men wish it were true, and then show that it is.' Jesus is the Way, the Truth and the Life and in him we see both the desirability of the Gospel and the credibility of the Gospel. However, this is very different from the way we look at faith in our culture, where we tend to extrapolate at one end or the other. The challenge we have as evangelists is bringing the two together as we seek to engage with the culture. 
"We've certainly seen a shift from evangelism that starts with credibility, to evangelism that starts with desirability," says Mair. This means that people in their forties or older may look at the way younger generations make decisions about what to believe and conclude that they're not asking the right questions. "That's because older generations have been told that what it means to have faith is to assent to an intellectual proposition. Younger people are likely to look at that and ask, how does that give me the authentic life that society is encouraging me to seek after?
"The danger on both sides is that we tend to overcorrect. For apologists and evangelists in 2020 it's easy to become unmoored from the authority of Scripture because you want every person to desire Christ. But if you're too focused on their experience and don't ground that encounter in the historical events of the Gospel, you can be left with a sort of moral therapeutic deism. 
"A guest came up to me after one of the evening events I spoke at recently and said 'I've tried praying but nothing worked, so what do I do now? I feel like I've given God my best go.' There was such sadness and mental anguish in that question. One of the downsides of over-emphasising the personal is a lack of anchoring and grounding." So how does Mair help those who need to know that God's trustworthiness isn't dependent on their feelings, and that it's possible to find a faith that endures despite our experiences? "It's vitally important that we encourage students to engage with Scripture as a means of interpreting historical facts," she says.
"I consider it a job well done if in the 20-25 minutes of a talk I can convince guests that Christianity is existentially satisfying, so that the next question they have is — so is this true? Typical questions after a talk would be things like, 'How can I be certain this is true?', 'How do you define truth?' or 'What did Jesus mean when he claimed to be the Truth?'. Then I think, great, we've moved the conversation on. 
"When you get a question at a Q&A you have about three minutes to address it, and I usually start with how Christianity accords not only with our personal experiences but that there is historical evidence that shows us this is true. I encourage people to go and examine the evidence — they've had a glimpse of it during the event, but the burden is on them to see if it's trustworthy. This is where the work I do meets the work of Tyndale House. There's often a free book stall at the back, and there are always copies of [Tyndale House Principal] Peter Williams's book Can We Trust the Gospels?, and others I can recommend. It's important that the audience understands that it's not just me saying this is true, I need to point them to external sources that they can investigate for themselves. Like Peter does in his book, I try to include comments from agnostics or atheists who see the credibility of the Scriptures in some way."
At the same time Mair is at pains to point out that both subjective and objective knowledge have a role to play in faith. Those who instinctively ask objective questions about faith first, still have to come to the point where they consider how Christ relates to them personally. "I can't have a knowledge of humanity that's divorced from my creatureliness or the purposes of God and what he's achieving in this time and this space. If I come to Scripture with a predetermined outcome of what I'm going to receive when I read a passage, that isn't going to correct my understanding of what it means to have knowledge of God and knowledge of myself. It's just fuelling the self-determination and autonomy of modernity."
This is one of the reasons that Tyndale House works to help Christians understand the Bible more deeply, as well as to trust it. "It's important to ask how the Scripture points us towards what it means to be human," says Mair, "and to engage with the fullness and the texture of humanity and the way that we have been made in God's image."
It was encountering students who were wrestling with these issues that prompted Mair to write MORE>Truth, which looks at truth as both factual and personal, and how these ideas come together in the person of Jesus. "We have created a false separation between the desirability and credibility of Christianity because we are limited, fallen human beings," she says, "but in Jesus they are one." This is a message that desperately needs to be heard in a world that is often termed "post truth" because of how elusive truth can feel. For Mair the Bible holds out the antidote to post-truth cynicism. As she says in the central chapter of MORE>Truth: "Is truth then external, internal, objective, subjective? It is all in Christ. It is the declarative statements and actual events of his words and works. But they are centred in his person. Truth is personal because Jesus is.
More Like This
In this episode, Dr Andrew Ollerton and Dr Dirk Jongkind ask whether we can have confidence to trust the Gospel manuscripts and how the Gosp…

Andrew Ollerton & Dirk Jongkind

We have four gospels, and these four gospels are not direct copies of one another. But how can we understand the testimony of these gospels?

Dirk Jongkind

Prof Bart D Ehrman has sold millions of books questioning the reliability of the Bible, but his arguments are far from irrefutable

Peter J Williams
Explore