Digging up the Church's past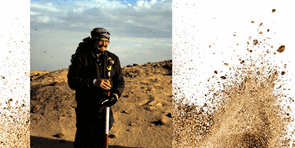 The New Testament writers expect us to know basic facts about their world. Dr Thomas Davis tells Kay Carter how archaeology can help to fill that information in. 
One of the things that sets Christianity apart from other worldviews is that it isn't just a theory, philosophy or moral code ­— it is rooted in real-world events and is only coherent if these events actually happened. This means that it matters whether we believe Bible narratives (sensitively read with a respect for their context). It also means we need to know something of the ancient world if we want to understand the Bible deeply and appreciate Christian heritage richly.
To say that having a good grasp of history will help us read the Bible better isn't to suggest that somehow Scripture is incomplete or doesn't contain everything we need to comprehend the Christian faith. However, the Bible is written in a way that focuses on actual happenings, so the importance of understanding its context flows from Scripture itself. All this means that Christians owe a debt of gratitude to the historians and archaeologists who seek to provide information about the world of the Bible and the early Church. 
I am discussing this with Dr Thomas Davis, Associate Director of the Lanier Center for Archaeology at Lipscomb University in Nashville, Tennessee, and he encapsulates the importance of historical literacy among Christians in a characteristically direct way: "There are certain historical fundamentals we've got to understand, because if Jesus didn't rise from the dead Paul is absolutely right, we're a bunch of idiots. And if the Bible is not, at a fundamental level, historical, we're a bunch of idiots too. In our culture there is a pervasive postmodernist problem with truth which always wants to say, I'm okay if you don't agree with me. Well at a certain point it matters if it's historic or not, it really does." 
Davis believes that his subject, archaeology, can help Christians not only to examine the evidence for Bible reliability, but to have a better understanding of their faith and heritage. "The Bible is a theological interpretation of history," he says. "It's a true interpretation but it's not a full interpretation. It's one that happens to be theologically correct, and it is the spin that God wants us to have, but there is so much more we would understand about the Bible if we could see the material world around it.
"Let's be clear that the Bible comes from a real world — it's not something that was created in a library somewhere — and some knowledge of that world is assumed by the Bible writers. Matthew expects you know how to farm, that you know what a vineyard looks like, that you know what a marketplace is like. So when Jesus tells a parable set in the market, Matthew assumes the reader knows there will be a guy standing in the corner looking for work. 
"That background has mostly gone for us, yet it was there and it was real. Archaeology can help us understand why Jesus says certain things the way he does. It helps us see why Paul talks differently to different cities — because the people are different, they have different cultures, different expectations. Archaeology gives you that which Scripture does not.
"It's like if you walk into a supermarket and you have your list of what you're going to buy. Thousands of years later a historian might read your list, and that's all he knows about the supermarket. I'm the archaeologist, I come along, I excavate the supermarket. I can tell you where the fruit stand was, where the vegetables were and what types they had. I can find out what you didn't buy."
This type of context detail isn't just theoretical; it can shape our understanding of Bible narratives. "Take taxation, for example. Everybody assumes that Matthew [from Matthew 9] is a tax-collector for the Romans, but he's not. Herod Antipas doesn't have to pay taxes to Rome. So who is Matthew collecting for? Well he's either collecting for Herod Antipas himself, which is an interesting speculation, or he's collecting for the temple. Either way, that piece of information shapes what we think the story is about."
Another example Davis gives is of the falling out between Mark (sometimes called John) and Paul, referred to in Acts 15. Barnabas and Paul are going on an evangelistic journey and Barnabas invites Mark as a mission partner. But Acts tells us: "Paul thought best not to take with them one who had withdrawn from them in Pamphylia and had not gone with them to the work. And there arose a sharp disagreement, so that they separated from each other (Acts 15:38)." 
Inevitably there has been much speculation about what could have caused such a "sharp disagreement" and it is often assumed that it must have been theological, but from the archaeological evidence Davis offers another explanation. "Paul and Barnabas had travelled across Cyprus from Salamis to Paphos. Salamis is a Hellenistic, Greek-connected city that trades with its neighbours to the East. Paphos is not connected with that same network at all. It feeds down to Alexandria and it feeds to Rome, and we know this from the pottery and from the trade links.
"This is where they meet the proconsul, Sergius Paulus, who is a pagan but who comes to believe. We know from archaeology, and only from archaeology, that Sergius Paulus's family came from Anatolia, from a place called Pisidian Antioch. Where does Paul go next? He goes to Pisidian Antioch. To me it's a change in the original mission, because from the trade routes and connections in the early first century, you don't sail from Paphos to the north. I would imagine Sergius Paulus wants them to take the gospel to his family and can give them a letter of introduction; and they probably get to use an official ship because he's the governor and he can do that. 
"It makes sense that Mark would say, wait a minute, we're supposed to go to North Africa next. That's where people would have sailed to from Paphos. That's why I'm not surprised when they later reconcile, because I think it's a mission-strategy fight, not a theology fight."
Davis's work doesn't only help to put Bible narratives into focus. It also sheds light on life in the early Church. In particular, he has been working on a site in Cyprus that contained the remains of a Christian family who were killed in an earthquake in the fourth century AD. The area seems to have been abandoned shortly afterwards, leaving what Davis describes as a "frozen moment" when the residents died. "It's a rare experience to have an archaeological site that is not disturbed by later occupants, but after the earthquake the people moved out of this area."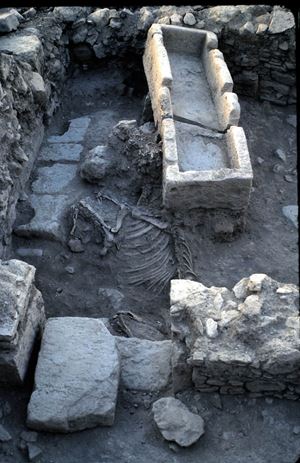 Davis and his team discovered a family of "lower middle-class Christians". "We recovered lamps and a ring with Christian symbols on," he says, "a clear Christian identity expression. We also found that the earthquake was a catalyst for change. In the reconstructions that follow the quake none of the pagan temples are rebuilt, but suddenly churches start popping up. Pagans were certainly still there because we see pagan mosaics in the 5th and 6th centuries. In other words, they could have restored temples if they wanted to, but instead these cities Christianise. They found that when disaster came, Apollo didn't cut it for them. In fact we have a mosaic which essentially says: 'Christ now protects my house.' And we learn that from the archaeology."
It is in the small details, however, that the story becomes personal. "Archaeologists found the couple with a lamp by their hand, so we knew they had gotten up at night and been killed in the quake. There was an animal still chained to its trough, and a girl who'd been sleeping in a loft when it collapsed, and she was killed. The rest of the family was huddled by the doorway. These are human beings who had the same feelings as us and who would respond the way we would respond. The mother was protecting the infant, the father trying to protect them both, and they're all killed. This is real life and real death and it hasn't changed." 
By being able to describe such moments so vividly, archaeology can help to connect believers with the Church down the ages. "As Christians we are, correctly, very personal. We focus on how our church family is doing in the here-and-now, but we can forget that we're a 2,000-year-old institution and we weren't created yesterday," says Davis. Even though the Christians in the earthquake house were 1600 years closer to the events of the Bible than we are, the Bible was still history for them. Christians today share the common experience with them of a faith that is reliant on written eyewitness accounts of actual events that happened many years ago. It is striking to note the similarities between our materialistic world of 2021 and the pagan world of the fourth century, and to know that the Christian message is exactly the same to both. "If you're a pagan and you die there's nothing left, you've lost it all, the gods have failed you. But death is not the end if you're a Christian. Death is horrifying, but it's not the end and it's not fully negative." For Davis, this creates a rich bond with the ancient people he studies. "As a Christian I may die but I'm still in Christ, just like the guy in the earthquake house. I do believe I will meet him one day. Of course, he'll probably be mad at me for digging him up, but that's another issue."
Keep Reading
Dr Kaspars Ozolins shares the story of two tiny silver scrolls which bear witness to the Old Testament text

Dr Kaspars Ozolins

Dr Kim Phillips explores an Egyptian tomb painting that mirrors the biblical text 

Kim Phillips

This stone tablet takes us back to the last days of Babylon, and a series of events that was to have momentous consequences for Judah
Explore