Take a first step in Bible languages
Interview
26th April 2019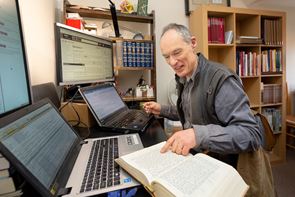 By Kay Carter
When trying to make sense of "difficult passages", theologians have two important tools at their disposal — first, looking at where specific words are used elsewhere in the early Bible sources, and second, how these words were used in writings from the same time period.
In combination, these give us a good idea about how Bible passages would have been understood by their original audiences.
Such techniques are used by commentary-writers to help explain controversial verses, but reading a commentary is different from being able to see the raw information and make up our own minds. Of course, to compare where a Hebrew or Greek word is used elsewhere in the text, you need the ability to read original Bible languages, but once this information has been found and recorded, in theory anybody can use it, regardless of their linguistic ability. Similarly, fleshing out what a particular Greek or Hebrew word means, using biblical and non-biblical sources, requires significant academic work, but once that has been done, anybody can understand the definitions if they are written in their own language.
Dr David Instone-Brewer, a Senior Research Fellow at Tyndale House, has spent most of the past 10 years making this type of information accessible to everybody who wants it. "Bible scholarship allows you to see all the bits where the translators are not quite sure. It's my job to research these tiny details that most people don't even know are there, and then make it possible for anybody to investigate them."
In 2009 he approached the Tyndale House trustees and pitched the idea of a piece of software that would give people access to information about the meaning of the words used in early manuscripts, even if they don't speak Bible languages. He wanted to provide the best available information about what Bible words meant to their first ancient-Near Eastern readers. "Apparently, after I'd left the room, having explained my crazy idea, they got extremely animated, which meant that they 'got it' right from the start." In 2011 the first version of the software was launched – Scripture Tools for Every Person or, as it became known, STEPBible.
"I wanted to provide resources for ordinary people doing Bible studies, or for people in parts of the world where the fees for commercial software are prohibitive. Initially the idea was to create free online Bible tools, but it soon become clear that this didn't work very well for lots of people globally because they don't have reliable internet access. I discussed this with our developer and he came up with a brilliant piece of software that allows users to download whatever data they want (a core group of Bible texts, plus other translations and lexicons) and then access the data through their browser, as though their internet connection was up and running. From first concept to going live took about a year, thanks to our programmer, Chris Burrell, who is quite amazing."
The next stage in the process was to find the best Bible data, and make sure the verse structure was consistent in every version so that different languages and translations can be compared, verse for verse. Thankfully, by the time STEPBible was being built, an organisation called Crosswire Bible Society had already pulled together the majority of the free Bible texts and released them in a common format with aligned versification. "Most free Bible software in the world owes a debt to Crosswire," says Instone-Brewer, "and certainly STEPBible uses a great deal of its coding for presenting and searching text. There are now 280 languages included on STEPBible, and 450 different Bible versions. This is only possible because commercial Bible publishers have been enormously generous in allowing us to use their texts." If you open STEPBible in Hong Kong it will open in Cantonese; if you open it in Saudi Arabia it opens in Arabic. It's not only the Bible that is in a reader's own language, the menus and hints are in that language too.
Whereas a concordance can tell you (for example) every place the word "believe" occurs in your Bible, STEPBible will show you that it is translated from the Greek pistis and also indicate every place where the same word is translated "trust" in your Bible. It will then allow you to look the word up in a lexicon (a list of all words used in the Bible in its original languages, and their meanings). STEPBible has three different levels of lexicon. There's a simple definition; then a Scriptural summary (how it's used throughout the Bible); then a historical one (how it was used in other texts of the time). "That is where the treasure is," says Instone-Brewer. "The people who were reading the New Testament for the first time, their understanding of words was shaped by the whole of Greek literature and how language was used in the ancient Greek World. We still have some of this literature, and we can apply it to find out how language was used in Bible times."
Generally, even if you have access to a Bible lexicon the entries can be hard to find, and they are fairly unintelligible to those who don't have academic training because they are highly abbreviated and swamped with bibliographic references. STEPBible finds the word for you, and then presents the definitions with the abbreviations expanded and with the distracting details hidden (unless you hover over to reveal them).
For Instone-Brewer, the goal is to make these tools available as widely as possible, in as many languages as possible, particularly languages for which good Bible resources are rare. However, this will only become a reality if complex linguistic tasks that currently require human processing can be automated. He explains: "At the moment there are perhaps a dozen Bibles that are tagged for Greek and Hebrew, so that a link has been created between words in a translation and the corresponding word in the original-language text. It takes one scholar about 10 years to tag a Bible. Most of the tagged Bibles are in English, but we have hundreds of Bibles in hundreds of languages and we don't want to wait thousands of years. So I thought, let's see if we can get a computer to do it.
"The early experiments were appalling. In one instance I tried to get Google to examine the wording of the first chapter of John, and it turned out that 'the Word became meat'. Which is thought-provoking, actually – flesh has become a theological term, but suddenly that verse got its original shock value back, even if not the right nuance. However, it didn't really help us create useful information for STEPBible."
In fact the project is now using a form of AI, which is being taught to analyse two texts and form probabilities about how the words correspond. "I decided to start with Swahili," says Instone-Brewer, "which is the most difficult for a computer to understand because it uses a huge number of prefixes and suffixes. I thought, if we can make it work for the most difficult language then we might be getting somewhere. I don't know Swahili, but that's deliberate because I don't want to teach the computer each language, I want the computer to be able to handle any language I throw at it."
Although STEPBible is Instone-Brewer's brainchild, bringing it to life has only been possible because of the work of almost 100 volunteers, working virtually, many of whom he has never met. Some are Bible enthusiasts without formal training, others are skilled linguists, but all are united behind a vision to put tools that have only ever been available to scholars in the hands of anyone who chooses to pick them up. "I like to think that I am lifting up the lid," says Instone-Brewer, "and helping people to see how the text works. I can't imagine a better job – every day I get to play with the Bible."
Keep Reading
Getting familiar with Bible languages can have huge benefits — and it may be easier than you think

Dr Peter J Williams

How would Jesus have experienced Scripture, and how similar was his Bible to ours?

Dr John D Meade

Dr Peter J Williams discovers how the original language of the Psalter uses sounds and poetic devices to reinforce the meaning of the text

Dr Peter J Williams
Explore