Words to live by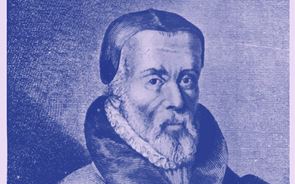 In the late 19th century, researchers discovered a Latin letter signed by a "W Tindalus", or William Tyndale, the famous translator who gave the English-speaking world its first vernacular Bible.
The letter was written not long before his death and was addressed to an authority at the prison in Vilvoorde. The bitter cold and darkness of his cell had become insufferable. He knew there was no hope of acquittal and that he would be executed. This letter was not a plea for mercy. Instead, he begins by asking for a few simple comforts to pass the time: "I entreat your lordship to send a warmer cap. I suffer extremely from cold in the head," he wrote. "A warmer coat also … my overcoat is worn out." The letter continues on to ask "permission for a lamp in the evening, for it is wearisome to sit alone in the dark." None of this is unusual. Any one of us would ask the same things were we in his position. It is what we read next that surprises us: "But above all, I entreat permission to have my Hebrew Bible, a Hebrew grammar and a Hebrew dictionary." We do not know whether his request was granted. We do know that months later, in October 1536, W Tindalus was strangled and burned, never to write or read again. This request was almost certainly his last letter as a man. He had written, as Paul did before him to Timothy, "when you come, [...] above all [bring] the parchments" (2 Tim. 4:13). For his last meal, William Tyndale wanted a Hebrew Bible. 
What brought him to earnestly desire a Hebrew Bible on his deathbed? The request was surely not, in the midst of physical suffering and imminent death, born from a sense of duty. Tyndale was not pursuing the Hebrew language to prove himself right in the eyes of others. Personal betterment or the upper hand in an argument are useless to a man sentenced to death. I believe the reason behind his request was much simpler and more endearing: William Tyndale wrote requesting a Hebrew Bible not as a tool to further his position, but purely because he enjoyed it. 
He knew that to translate the Bible was to give others an object of joy "which liveth and lasteth forever" (1 Peter 1:23, his translation). He had seen "the lyghte of the knowledge of the glorie of God" in the Hebrew scriptures. Like the prophet Jeremiah (15:16), these words were the "the joy and delight" of his heart. His relationship to Scripture in its original languages was not transactional but transcended duty and entered the realm of delight. Ancient Greek and Hebrew were precious to him because they were the home of Holy Scripture. As the Greek grammarian A T Robertson writes, the Scriptures were "the event where grammar becomes grace".
Accessing even a little of the Bible in its original languages is an opportunity for a rich experience of Scripture. Put another way, in a vivid analogy used by Robertson: "The freshness of the strawberry cannot be preserved in any extract." Examining the Greek enables us, for example, to experience Paul in his own words as he describes the invincible hope that he has in Jesus in Romans 8:35-37. Paul writes that the Christian exists in a double condition: always engulfed in conflict and yet completely, utterly triumphant. "Who shall separate us from the love of Christ? Shall tribulation, or distress, or persecution, or famine, or nakedness, or danger, or sword? [...] No, in all these things we are more than conquerors through him who loved us."
There is something of a swagger to this passage. Instead of stating his point directly ("you are secure in Christ") he begins with a rhetorical question: "Who shall separate us?" He is not eliciting new information. He is boasting. Notice his word choice: we are "in all these things". Paul uses a common container metaphor to depict the Christian as being engulfed by this litany of afflictions. Conflict is our state of life, and yet in the midst of it "we are more than conquerers". The English phrase translates a single Greek word: ὑπερνικῶμεν (hupernikomen). Paul chose a word used in classical Greek literature (not from the Greek version of the Old Testament) to refer to the way that one person utterly devastates another in a battle to the point of complete and total humiliation. It comes from two words: ὑπερ (huper, "beyond") and νικάω (nikao, "I am victorious") and could be translated as "we are utterly triumphant" in English. As the early Church Father John Chrysostom explained: "[the word means] they did not merely conquer, but in a wondrous way" (translated by J B Morris, cited in Frank Thielman's Romans). What is wondrous about it? It is that even these afflictions "work together for good" (28). Paul is saying in the most graphic way imaginable that God will do more than defeat these enemies, he will humiliate them by using them to "conform us to the image of his Son" (29). Not only will these afflictions fail to separate us from the love of Christ, he says, but they will fail utterly. This is how the triumph of Christian suffering is described –– with an emphatic "No!" to Paul's rhetorical question. As Joseph tells his brothers in Genesis 50: "you meant evil against me, but God meant it for good". Having tasted truth like this, it becomes easier to understand Tyndale's final request.
Getting familiar with Bible languages can have huge benefits — and it may be easier than you think

Dr Peter J Williams

Dr Peter J Williams discovers how the original language of the Psalter uses sounds and poetic devices to reinforce the meaning of the text

Dr Peter J Williams

If you want to be surprised by Scripture, let the languages captivate you, says Travis Wright

Travis Wright