Thinking contextually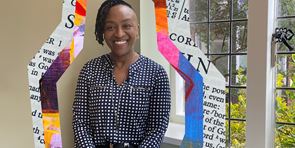 Beth Vickers catches up with Professor Liz Mburu, a Kenyan scholar who's working tirelessly to make Bible scholarship accessible—and contextual—to the African church.
Professor Liz Mburu has a lot of projects on the go. It's only the first hour of her week-long visit at Tyndale House, but she's already scanned the coffee time crowd and found one scholar she's worked with in the past and another she's currently collaborating with. And the person she just passed outside in the corridor? She's working on a project with them, too.
When we start talking about her work, it is easy to see why Liz is so busy. Even her email signature takes a while to read aloud. Liz lives in Nairobi, Kenya, where she's an Associate Professor of New Testament and Greek at Africa International University and Pan-Africa Christian University in Nairobi. Alongside her research and teaching, she is Langham Literature Regional Coordinator for Anglophone Africa and the Coordinator and Theological Editor (New Testament) for Langham's Africa Bible Commentary board.
Liz's journey into biblical scholarship wasn't straightforward. "I did a Bachelor of Education in Botany and Zoology in the late 80s, early 90s. At that time, I wanted to be a biology or chemistry teacher and I did a little bit of that. But then, after a while, I started working with street children through my church. And I realised my education degree wasn't really working for what I wanted to do. So I did an MA in Biblical Counselling, and then graduated and then converted that into a Master of Divinity. From there, I went to the States to do a Master of Theology in New Testament and from there I went to Southeastern Baptist Theological Seminary for a PhD in New Testament."
If it seems like a big leap to go from Botany to a PhD in New Testament, it's because it was, even for Liz. When asked about it, she tells us about a seminary professor who challenged her to keep going in her studies, "I had started to get into the languages, and he realised I had a knack for them. The minute I got into Greek I just felt, 'This is it.' I just loved the way the language works, the way it fits together and how you can unpack it."
This enthusiasm for New Testament Greek, paired with her enduring love of stories, led Liz into her PhD research. Her dissertation focused on the similarities between the sectarian texts found at Qumran and John's language and symbolism. "I wanted to see what a narrative approach combined with a grammatical-historical method could uncover from the text. John just seemed the perfect kind of narrative because it's very deep, theologically."
After finishing her PhD Liz taught for a while in the US before returning to Kenya. Along the way, she studied for a master's in Bible Translation. At this point, I've lost track of her degrees. Liz laughs, "I just feel like I'm one of those full-time students."
It was in Kenya that Liz came across the Langham Partnership, an organisation that seeks to raise the standard of biblical preaching and contextual theological education in the global Church. Through Langham, Liz came to Tyndale House. "I heard that it was a great environment to do some writing." And by the sound of it, Liz has a lot of writing to do.
The one book every Kenyan pastor should own
As the readers in our library will tell you, strict word limits are a necessary, but sometimes unwelcome, part of scholarly publishing. But what if you had to condense decades of scholarship on all 66 books of the Bible into just one commentary? That's what Liz and the rest of the board for the Africa Bible Commentary are working to do right now.
Liz serves as the New Testament editor and coordinator for the revisions on the Africa Bible Commentary, a one-volume commentary on the whole Bible. The Africa Bible Commentary project aims to resource pastors, students, and lay leaders who otherwise wouldn't be able to access or own printed copies of commentaries. In Liz's context, the value of a one-volume Bible commentary is clear: "That's what we tell our pastors, if all you can get is one commentary, try and get that one."
Liz and the other four members of the editorial board are taking on an ambitious challenge. "Life is changing," Liz says. The first edition of the Africa Bible Commentary was published more than 10 years ago. "Africa is more urbanised, globalised, post-modernised. There are so many new issues that we need to address."
Every commentary project has its difficulties, but Liz and her team face additional challenges. "First of all, one of the things that we are doing is getting people to look at recent research, which is difficult in our context —" Liz pauses as she describes this, looking at me. "I think it's important that you write this down because we just do not have the resources." For the scholars working on the commentary, the most recent scholarship available might be five or ten years old. Liz continues: "Even with digital resources, you still have to buy expensive licences and much of what is online still isn't very recent."
Even power outages pose a threat to the scholarship. "These are things you might not even think about," Liz says, "but almost every day there's a power outage in my neighbourhood in Nairobi. It could be in the middle of writing. It could be in the middle of a meeting." She's learnt to save documents regularly; a power cut could easily erase hours of work.
From the known to the unknown
A theme throughout Liz's work is the idea of thinking contextually. This approach underpins both the Africa Bible Commentary and her recent book African Hermeneutics (Hippo Books; Langham, 2019). "Everybody has a hermeneutic, everybody interprets texts in a particular way," Liz says. "African hermeneutics is just starting you off in your own context."
An awareness of this context is one of the biggest needs Liz identifies for scholarship like the Africa Bible Commentary. "We need people who can address our issues from a biblically correct, but also authentically African perspective.
"For instance, right now, we're dealing with the prosperity, health and wealth gospel. We need to be able to look at our history and our traditional transactional relationships with deities. We need our scholars to look at that and say, 'How then can I help an African get out of the prosperity, health and wealth gospel? How can I help them see how this relates to a traditional African worldview or a particular context of suffering or lack of material resources?' It is being able to get to the bottom of what the issues are from an African perspective, then addressing them, that is so important."
In African Hermeneutics, Liz explains this method using the image of a four-legged stool. "I use this analogy because it is familiar to all Africans. I really value my Western education, and my Western training and my Western resources. I don't throw that out, but I want to pick what is good from the Western context and add it to my own African way of thinking."
The first leg is looking for parallels between the biblical context and one's own context. Liz gives an example from Hannah in 1 Samuel 1: "As an African, when I read that story, there are certain things that just jump out at me from the text. The first is the honour and shame aspect of childlessness, which may not really strike a Western reader. In the African context, childlessness may mean you're at risk of being divorced, or for your husband to bring in a second wife. There's a risk of domestic violence and dishonour to the husband's family name.
Reading the text like this, looking for moments of cultural resonance and familiarity lets a reader "enter into it gently, without it being such a shock to your system," Liz says. She is, however, careful to qualify this with a caveat: "I do think the text has boundaries of meaning. Parallels that seem to go beyond what the author intended to communicate through the text would be out. You're interrogating, not just confirming your assumptions. And it's a continuous process as you work your way through the four legs."
The other three legs of the stool are theological context, literary context and historical context. These are where what Liz describes as an "African way of thinking" comes into its own. "For me, the literary context is very important. I love literature and Africans have a vast store of ways to read literature in our own literary traditions. This leg of the stool tries to work out how to read the Bible while making use of our own African hermeneutical resources. It asks, how do I read a story? Or how do I interpret a poem? Or how do I interpret a proverb in my own, for example, Kikuyu culture? It uses those techniques to enter into the text. For example, it looks for features of the text that have orality, where we can hear that these texts were read aloud and probably performed. I use the resources of my African hermeneutics, how Africans read and interpret, and I put those to work on the narratives, the stories and the songs."
Sitting firmly on these four legs is application. "Hermeneutics in Africa has to be very functional," Liz says. It is this awareness of the real-life consequences of Scripture applied to life that motivates her. The greatest joy in her work, she says, is the students she teaches. "It is being able to see my students, five or six of them, working on their PhDs with a passion for the biblical languages, a passion for the New Testament, and more than anything, a passion to serve the Church. Sometimes we can get lost in our scholarship. We can think it's about us, about making a name for ourselves. For me, the greatest joy is being able to help the students recognise that the scholarship which God has given us to do is meant to serve the Church and to grow the Church deeper in faith.
Liz is realistic about the challenges facing the African church but remains optimistic that good biblical scholarship will help address them. "Africa has many challenges. Religious syncretism is everywhere. Some of the syncretism experienced in the church in Africa, a syncretism with African traditional religions, is very dangerous. There is confusion as to where our culture fits in. So, for me, being able to impact students to address such challenges in their own congregations—I think that's the greatest joy of scholarship."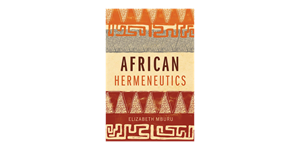 Communicating clearly and logically developing observations from African life and the biblical text, Elizabeth Mburu articulates a sound and fruitful African hermeneutic. She skillfully compares African and biblical worldviews, offering foundations for contextualization in a way that brings together the interpretive horizons. – Craig S Keener, F M and Ada Thompson Professor of Biblical Studies, Asbury Theological Seminary, USA