Reading Jeremiah with the grain of Scripture
Article
9th November 2023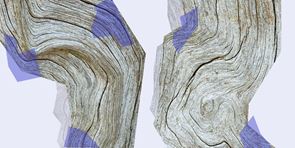 Jill Firth takes us on a journey through the book of Jeremiah to uncover the message of hope woven into a story of rebellion.
There are a number of reasons to avoid reading the Book of Jeremiah. It's the longest book in the Bible. It's pretty dark. And some parts of the text are difficult to understand without some reading guidelines. One helpful framework is to read Jeremiah 'with the grain of Scripture,' described by Richard Hays as a 'hermeneutics of trust,' rather than a 'hermeneutics of suspicion' (Reading with the Grain of Scripture, Eerdmans, 2020).
This way of reading can include respecting differences in culture and lifestyle, understanding literary genres used in the text, and seeking to read along with the rhetorical strategies of the biblical author. Reading Jeremiah with the grain of Scripture can help us to approach some of the book's more surprising texts and the strategies Jeremiah uses to convey both the coming disaster which will result from Judah's ongoing rebellion and the riches of his grace which he plans to give to them.
A national emergency
Judah's situation is urgent. Jeremiah preaches for forty years (627–587 BC), but few heed his message. Nebuchadnezzar lays siege to Jerusalem, but the leaders are unconcerned, perhaps because they are trusting in a hundred-year-old promise relating to an earlier siege in the time of Isaiah (Isaiah 37:21-35). Unfortunately, the leaders of Jeremiah's time have overlooked a vital detail. In the time of Isaiah, King Hezekiah turned to the Lord and led the nation in submission to him (Isaiah 37:1-4), but in the time of Jeremiah, King Jehoiakim and King Zedekiah refuse to trust in the Lord or to obey the guidance of his prophet (Jeremiah 36:20-26; 38:17-20). Jeremiah turns from patient preaching to powerful challenge.
Caricature
Jeremiah's first strategy is caricature. The early chapters of the book contain an exaggerated picture of Judah as a foolish, loud, and immoral woman (Jeremiah 2:1–3:25). In the ancient Near East, a typical way of describing a nation or city was to characterise it as a female figure. In fact, the rest of the book shows that Jeremiah is speaking to the male elite. Jeremiah uses caricature and gender reversal to make his point more powerfully. The shock value is similar to newspaper cartoons of public figures, or the use of animals to depict political parties in George Orwell's Animal Farm (1949), or of gender inequality in Naomi Alderman's novel The Power (2016). Orwell depicts his characters as farmyard animals both to distance the message, so that it is more easily heard, and so that he can exaggerate features of the characters. Alderman invents a society where women are physically more powerful than men, and where they treat men with contempt, in order to bring attention to gender violence in our own culture. In the Australian novel Terra Nullius (2017) by Indigenous author Claire G. Coleman, the reader is presented with a harrowing depiction of colonisation and oppression, which is brought home to non-Indigenous readers by a plot twist at the end of the book. Over 2500 years earlier, Jeremiah uses a strikingly similar method. To get under the guard of the male elites in Judah, he describes a ridiculous female figure in the hope that they might examine their own faithless behaviour. This is not misogyny, or a critique of women's behaviour, but an urgent attempt to avert the disaster which was looming.
Dystopia
A second strategy is dystopia, which Jeremiah uses to focus the Judaeans' attention in chapters 4–6. Jeremiah presents a bleak image of the earth, which has become 'without form and void' (tohu wabohu), using the exact language of Genesis 1:2 to indicate the unmaking of creation (Jeremiah 4:23). He depicts the heavens without light, the mountains no longer standing firm, and the land become desolate and uninhabited,
with the cities ruined. Even the birds have fled (Jeremiah 4:23-26). It is possible to read Jeremiah 4 as prediction, but the later chapters of the book reveal that, although Jerusalem is destroyed, there are
still inhabitable houses, edible crops of fruit, and wine in the countryside (Jeremiah 40:7-12). So it is more helpful to read the earlier chapters as a warning of what could happen if Jeremiah's warnings of disaster are ignored. We are familiar with dystopia from George Orwell's classic dystopia Nineteen Eighty-Four (1949), as well as The Hunger Games series (2008–2010) by Suzanne Collins and movies such as Blade Runner (1982) and The Matrix (1999). These fictional works invite us to examine social trends in the light of possible future outcomes. Jeremiah too, shows readers a terrifying vision of what is to come.
Utopia
In contrast to the caricature and dystopia of the earlier chapters, Jeremiah presents a utopia in chapters 30–31. The term 'utopia' was coined by Thomas More in 1516 for his book Utopia, in which he imagines a society where people live in harmony and security. Plato's Republic (written around 375 BC) is utopian, as is The Book of the City of Ladies (1404), a medieval French work by Christine de Pizan, imagining a city designed for the flourishing of women. Recent utopian movies include Avatar (2009) and Black Panther (2018). In chapters 30–31, Jeremiah presents a reversal of the caricature and dystopia of the early chapters. In a future vision, the exiles return and live in quiet and ease (Jeremiah 30:10), cities are rebuilt (Jeremiah 30:18), and vineyards are planted (Jeremiah 31:5). Instead of grief and wailing, there will be rejoicing (Jeremiah 31:4) and rest for the weary (Jeremiah 31:25). Virgin Israel, the female metaphorical figure, is told she is loved 'with an everlasting love' (Jeremiah 31:3), and the male representative figure, Ephraim, is acclaimed as 'my dear son' (Jeremiah 31:20). In these chapters, Judah is depicted as restored and reconciled.
Heterotopia
The awaited utopia is decades away in the future for Jeremiah's original hearers and readers, but meanwhile, God provides places of blessing and nurture in Babylon and in Judah. These places can be described as heterotopias. In his article, 'Of Other Spaces: Utopias and Heterotopias' (1967), Michel Foucault describes a heterotopia as a place which is different from everyday life, following different social rules or offering a different setting, such as a garden, a library, or the beach. A heterotopia can also be created in time, such as a honeymoon, where regular patterns of work and relationships are suspended. Foucault's idea is helpful in understanding God's grace to the exiles in Babylon (Jeremiah 29:5-7), and to those who are left in the land after the fall of Jerusalem (Jeremiah 40:1-10). The exile in Babylon is a real geographic location, which is distant from the promised land but unexpectedly becomes a place of blessing and flourishing. In Jeremiah, the exile in Babylon is reframed as the eye of the storm, a place of safety where women and men can thrive and be blessed (Jeremiah 24:6; 29:5-7). The exiles are to build houses, plant gardens, and 'enjoy their produce' (Jeremiah 29:5). The people are to settle down and pursue family life until the time comes to return to Judah (Jeremiah 29:6). Their home in exile will not be perfect, but it will temporarily be a special place of blessing.
Those who remain in the land after the fall of Jerusalem are also offered a surprising scenario for thriving, as the region around Mizpah was not damaged by the destruction of Jerusalem. This remnant had previously been labelled 'bad figs' and promised punishment and destruction (Jeremiah 24:8-10), but God now promises that they can also flourish in Judah under his care. Though they will have to wait for decades until the full restoration of the land, God encourages them by the word of the governor, Gedaliah, 'Dwell in the land and serve the king of Babylon, and it shall be well with you' (Jeremiah 40:9). The people are invited to gather wine, summer fruits, and oil, and to settle in their unoccupied towns (Jeremiah 40:10, 12). The same Hebrew promise, often translated 'that it may go well with you,' is familiar from Deuteronomy, where these words are applied to those who please God by keeping his commandments (Deuteronomy 4:40; 5:16, 29; 6:3; 12:25, 28; 22:7). In Deuteronomy, these words are often linked to a promise that their lives will be long, and that they will remain long in the land. Those who remain in the land experience a foretaste of the utopia which will follow the exile, even though they have been disobedient and deserve God's judgment, not his kindness and mercy.
Following the framework
Reading Jeremiah with the grain of Scripture enables us to approach difficult or confusing texts with an expectation that we will learn more about God and his ways. Reading along with Jeremiah's rhetorical strategies of caricature and dystopia can help us to see how the text is crafted to gain Judah's attention and call them to a safer path through a national emergency. The tropes of utopia and heterotopia help us to see God's promised future grace, and also his unexpected kindness and protection even within the darkness of the exile in Babylon and of life in occupied Judah following the fall of Jerusalem.