Keep the faith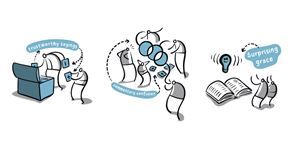 How can Bible languages and scholarship help us understand Bible passages better?
Whether we are preaching, teaching children or a small group, or reading by ourselves, we all hit puzzles, incongruities or questions we can't answer. At Tyndale House our aim is to serve the Church through Bible scholarship, and help Christians deal with situations just like this. My position here is a little unusual because I'm not a professional Bible scholar. I am a pastor — a preacher, with some appreciation of the value of good scholarship and, inevitably, a sense of the pointlessness or even poison of bad scholarship.
Perhaps you're writing a talk for a youth group. You diligently print out the passage, highlight the tricky parts, and reach for a commentary. An hour, and four commentaries later, you find you've tied yourself up in knots. All the commentaries seem to say different things, and you've barely scratched the surface of some of the trickier issues. So how do we use scholarship well? How can we let it shape how we read the Bible, without getting overwhelmed?
Here is one example of how scholarship has given me a helping hand when preparing to preach or teach. In coming issues of ink I will be looking at more.
"...if we are faithless, he remains faithful — for he cannot deny himself"— 2 Timothy 2:13
2 Timothy 1:1-2:13, the first main section of the letter from the apostle Paul to the pastor Timothy, is a sustained and personal appeal to be faithful and suffer for the apostolic gospel. Paul concludes each section with one of the "trustworthy sayings" that appear from time to time in the pastoral letters. This "trustworthy saying" has four parts. The first three are relatively straightforward:
"If we have died with [Christ], we will also live with him". This is clearly positive, both in its condition (if we died with Christ, a good thing to do) and in its outcome (we will live with him).
"...if we endure, we will also reign with him". This also is positive. We endure (a good and necessary thing) and as a result we reign with Christ.
"...if we deny him, he also will deny us". This is negative, both in its condition (we deny him, a bad thing) and in its outcome (he will deny us).
But what of the final part?
"...if we are faithless, he remains faithful". The condition is negative: we are faithless, clearly a bad thing. But what about "he remains faithful"? Is this a positive thing for us or a negative thing?
Commentators disagree. When I taught a Bible training course, I used to set our students a little exercise. I gave them (anonymously) three commentary extracts, in which reliable commentators read this final part in three different ways. I wanted them to learn to ask advice from friends and well-chosen commentators, but then to think carefully for themselves.
Some good commentators believe the pattern indicates that this final part is entirely negative. Paul has given two positives (both in condition and in outcome), then a negative, which suggests the fourth is also negative (both in condition and outcome). On this reading, the final section means: "If we are faithless to Christ, then Christ will remain faithful to his warnings, for he cannot deny himself by contradicting the warning he has given."
As I considered this, one observation and one question sprang to mind. The observation is that this final section is phrased unusually, with the extra words "for he cannot deny himself". This might indicate a breaking of the pattern (we don't know for sure). The question is this: can we learn anything from the way Paul uses the word "faithful" when speaking about God or Christ elsewhere? Does he use it positively (of God's faithfulness in rescue) or negatively (of God's faithfulness in judgment) or both?
I ran a search with some Bible software (any digital version of the Bible with Greek and English translations — such as STEPBible.org — can do this) and found that Paul uses the word pistos (faithful) six times about God or Christ. The other five are all positive; they all speak of God's or Christ's faithfulness in rescuing his people.
"God is faithful, by whom you were called into the fellowship of his Son…" (1 Cor 1:9)

"God is faithful, and he will not let you be tempted beyond your ability, but with the temptation he will also provide the way of escape…" (1 Cor 10:13)

"As surely as God is faithful, our word to you has not been Yes and No. For the Son of God…was not Yes and No, but in him it is always Yes… And it is God who establishes us with you in Christ…" (2 Cor 1:18-22)

"He who calls you is faithful; he will surely do it" (1 Thess 5:24)

"But the Lord is faithful. He will establish you and guard you against the evil one."
(2 Thess 3:3)
This does not prove that Paul uses the word positively in 2 Timothy 2:13, but it suggests this. Breaking the positive-positive-negative-negative pattern, Paul ends on a note of surprising grace. There is perhaps a difference between the final denial of Jesus (verse 12b), following what Judas Iscariot did, and the temporary faithlessness (verse 13), in the sad but not finally catastrophic tradition of Simon Peter. Timothy may have, or may in the future, fail to be faithful; but Jesus will keep him to the end.
When reading challenging verses, it is good to have people we can turn to for assistance. Bible scholars can help us get a better grip on the debates surrounding a passage, they write software that enables us to take a step back from the detail and see the bigger picture, and they can help us get a closer look at the raw materials the commentary writers are working with. We're unlikely to find easy solutions where generations before us have failed, but scholarship can provide tools to enable us to understand passages better. It's surprisingly satisfying to wrestle with a challenging passage, and even more satisfying to do it in the company of friends.