The World of the Bible Edinburgh 2023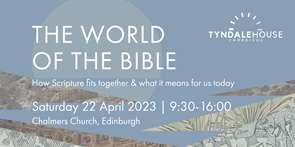 Edinburgh Day Conference, 22 April 2023
Join us Saturday 22 April 2023, for a day of teaching from Tyndale House researchers to investigate the world of the Bible. Have a look at the exciting talks we have lined up in the schedule below.
Full ticket: £15
Student ticket: £8
Live stream ticket: £5
Location: Chalmers Church, 69b Morningside Road,
Tickets are limited, book now on Eventbrite.
Schedule for the day
0930  Registration and coffee  
1000  Session 1 – Tony Watkins | Following the threads of Scripture's story
Watch Tony introduce his session
The Bible was written by dozens of people over a period of around 1500 years, yet it has remarkable unity and a cohesive message. In this session, Tony Watkins, Fellow for Public Engagement at Tyndale House, will trace some of the many themes that are woven throughout Scripture, as we discover a new appreciation for its depth, richness, and capacity to still speak to us today.
1100  Coffee break  
1130  Session 2 – Caleb Howard | As strong as the oaks: Amorites and Assyrians in biblical history
Watch Caleb introduce his session
In the Old Testament story, the Amorites and Assyrians play an important part in God's purposes for Israel: God uses them to test and discipline his people and both are objects of his judgement. But what more can we know about them? Join Caleb Howard, lead researcher on the Tyndale House Old Testament Project, as he fills out some of the historical portrait of Amorites and Assyrians from evidence inside and outside of the Bible and their impact on the world of the Old Testament.
1230  Lunch break – soup and sandwich lunch provided on site  
1330  Session 3 – Dirk Jongkind | From Rome with Love: How the letters in the New Testament fit into the bigger picture
Watch Dirk introduce his session
The Bible is not silent about how it came into being. And when it comes to the letters of the New Testament we can learn much about how these letters came to be, the mechanics of letter writing, and how the various letters hang together. Drawing from his expertise in New Testament textual criticism, Dirk Jongkind, Academic Vice Principal of Tyndale House, will start us off by looking into what Paul says about the background of his first letter to the Corinthians. But from there we will cast our net wider and learn about the apostolic teaching that comes to us through their letters.
1430  Coffee break  
1500  Session 4 – Peter J Williams | Jesus, the Bible reader and Bible teacher
Watch Peter introduce his session
In our final session, Peter J Williams, author of Can We Trust the Gospels (Crossway, 2018) and The Surprising Genius of Jesus (Crossway, 2023), will be exploring the four Gospels to discover how Jesus teaches us how to read the Old Testament and models ways to help others understand God's truth.
1600  Close  
Soup and sandwich lunch will be provided on site. Please let us know in your registration if you have any dietary restrictions.