Support
Changing the story of Cuba
Cuban scholars on short trips to Tyndale House to bring biblical languages home
Tyndale House is a resource for the global Church, providing support for in-depth and detailed scholarly study of the Bible. Your donations enable us to resource academics, pastors and leaders around the world.
Changing the story of Cuba
One example of how we steward your financial gifts to create a significant impact in the world is by raising up new scholars in under-resourced countries. Since 2013, Tyndale House has partnered with Cuba para Cristo to establish an indigenous group of biblical language experts in Cuba. As a result, we have trained a diverse faculty of Greek and Hebrew scholars from different denominations and seminaries who are themselves training even more scholars. One scholar who came to Cambridge described his time at Tyndale House as an "excellent opportunity to study Greek at the highest level." Another scholar said, "With this preparation we are not only developing our teachers, our pastors, leaders and seminary students in biblical languages, but we are changing the story of Cuba."
The church in Cuba desperately needs biblical resources from countries well-endowed with biblical resources. Though the Cuban church has grown remarkably since the early 1990s, it still faces severe hurdles, most notably a lack of available training for church leaders. In 2010, Hermes Soto, Rector of the Havana Baptist seminary and a pastor in Cuba since the 1960s, appealed to Cuba para Cristo to bring biblical resources to Cuba as no seminary offered 'decent' biblical languages programmes at the time. Recognizing this urgent need, Tyndale House strategized how it might leverage both its academics and biblical resources to equip Cuban leaders for the task of repopulating Cuban seminaries with biblical languages.
Intensive biblical languages training
Tyndale House created a model to train seminary professors in the biblical languages so that they in turn could teach others how to teach. All participants were sent by their seminaries with a commitment to return to Cuba to teach others. Tyndale House hosted its first Hebrew Boot Camp in January 2015. The primary tutor, Dr Steffen Jenkins, a Tyndale House reader, reflected on the immediate impact of the course, "None of the Boot Camp students, and none of their students back in Cuba, ever imagined that the point of learning Hebrew might be to actually read the Bible!"
In 2017, Tyndale House welcomed a new cohort to study Classical Greek. These scholars, six professors from four denominations, each became confident in their reading of Plato by the end of their cohort. In 2018, three of these scholars as well as two new professors came for six weeks' intensive studies in Koine (New Testament) Greek. This accelerated course enabled them to become proficient in their reading of the New Testament. Over the duration of their programme, participants read a quarter of the New Testament and half as much again outside the New Testament. Dr Jenkins shared, "It has been an absolute joy to teach these brothers. We achieved in five weeks what it takes me two years of normal teaching to teach."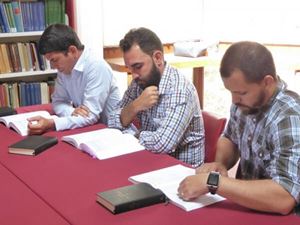 Scholarship for the whole of life
This partnership endeavours to accomplish more than just training astute scholars. First, it seeks to grow wholistic academics. Tyndale House desires to develop Christians who will use the biblical languages for personal devotional use. Moreover, the programme is structured to cultivate a genuine humility among scholars before God and his word. By living in community with other academics at Tyndale House, scholars at all stages of their career seek to serve the global church together. Second, the partnership is designed to foster cross-denominational unity. The first ten attendees came from six denominations and some teach for seminaries of other denominations as well. In this way, the wider Cuban church will benefit together.
In the midst of a burgeoning need, the partnership between Tyndale House and Cuba para Cristo is a seed of hope which is already bearing fruit. When one attendee offered a beginner's Hebrew course at a seminary in Havana, every student and many of the faculty showed up. Other Hebrew alumni meet together for one week every six months to continue their language studies. Finally, programme alumni have formed a new group in Cuba, CENALEB (which translates as National Centre for Biblical Languages).
In February 2021, we received wonderful updates from one Cuban scholar. He shared that there is now a regular Hebrew course at his seminary. As a professor of Hebrew, he now teaches Hebrew to Spanish speakers in both Cuba and Panama. In fact, one of his students recently took the CENALEB level 1 exam after his course.
Your role in this work
Your support towards Tyndale House helps to raise up global Bible scholars. Our passion for making the highest academic resources available for these rising academics is only possible because of your help. If you would like to be a part of this mission, then please join our team as a monthly partner. Be part of this unfolding story in Cuba.