Support
Applying Biblical studies to contemporary challenges
Dr Chee-Chiew Lee and others research at Tyndale House in order to make a practical difference in people's lives
Scholars from around the world come to Tyndale House to utilize our world-class biblical studies library and to join our diverse academic community. For over 75 years, through the generous support of our donors, we have resourced scholars to produce and publish vital research for the Church.
Theological education and ministry
One such scholar is Dr Chee-Chiew Lee, currently Associate Professor in New Testament and Senior Director of Programme Development and Advanced Studies at Singapore Bible College. Dr Lee came to Tyndale House as a Reader in 2016 as a Langham Scholar for postdoctoral research and returned in 2020 to work on a new book looking at persecution in the New Testament.
At first, when Dr Lee felt called to full-time ministry, the obvious avenue was pastoral ministry in the Church. Then nine years later she sensed a significant calling to theological education with the aim of one day training workers and theological educators for the Chinese-speaking church in Asia. Yet she was unsure how a theological education might lead to a full-time ministry. Reflecting on that season in her life, Dr Lee shared, "At the time I had no idea how biblical studies and reflection on contemporary situations might be done together."
Applying biblical teaching to contemporary challenges
Despite this uncertainty, Dr Lee had a clear vision. She says, "The church is growing exponentially in Asia and the need to train workers for the pastorate and missions is great." As she studied during her PhD, she was trained to engage in academia while staying grounded in the Scriptures. Consequently, she learned how to apply biblical teaching in response to challenges for the Church today. Dr Lee's own academic focus is on how Scripture informs the Christian's response to persecution, a contemporary issue in many parts of the world. This in-depth research into Scripture is extremely practical as many churches in Asia 'split because they have different opinions on how they should respond to persecution,' laments Dr Lee.
Her mission is now to make academic study relevant and accessible for the Church. She is working to overcome a persistent challenge for scholars: "The segregation of the intellect and pastorate can lead to academia not thinking about the practical wisdom it can generate, and the Church not thinking about in-depth research into God's word." In sum, she hopes to bring back a synergy between the intellectual and the spiritual.
Tyndale House's role in formation
Tyndale House is a unique and special place for scholars like Dr Lee to come to pursue rigorous academic work. We offer a wealth of resources and a supportive scholarly community.
Located right in the heart of Cambridge, Tyndale House has a close link with the University of Cambridge. Tyndale House also maintains global relationships, partnering with institutions such as the Langham Partnership to bring Langham Scholars to our library. All readers benefit from our world-class biblical studies library, which equips scholars with the resources they need for PhDs, sabbatical study, post-doctoral research and book projects.  
Dr Lee and others are formed by our diverse community of scholars from around the world. Our readers meet throughout the week at coffee times, to discuss their research, encourage one another and benefit from a breath of research fields and international perspectives. Early career scholars also benefit from frequent discussion and advice from established academics.
At Tyndale House we seek to foster not only an ideal place for study, but also spiritual formation. Encouraging both high standards of academic excellence and set-apart times of prayer and worship through weekly chapel meetings. We believe our scholars can engage in academia while staying grounded in the Scriptures, intellectually and personally.
Reflecting on all that Tyndale House has to offer, Dr Lee is grateful that Tyndale House offers a space for "work which has an impact on the Church at large and, of course, eternal value".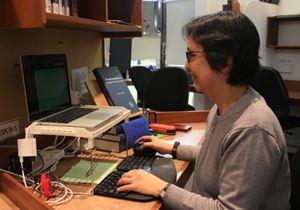 Your role in this work
We are so grateful for the support from you, our donors, which makes it possible for us to offer resources and community to scholars around the world. If you would like to further our mission to raise up scholars like Dr Lee, then please consider joining our team as a monthly partner.